Learn about Routes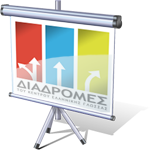 Routes in Teaching Modern Greek
Scientific coordinator: Professor Ι.Ν.Κazazis, President of the Centre for the Greek Language
Programme coordinator: Anna Kokkinidou
Coordinators of the deliverables: Maria Dimitrakopoulou & Anna Kokkinidou
The distance training system "Routes in Teaching Modern Greek" is implemented by the Centre for the Greek Language of the Greek Ministry of Education and Religious Affairs, and it has been running since 2007, when it was awarded with the European Language Label as an innovative educative programme.
Ms. Νiovi Antonopoulou, associate professor in the Aristotle University, Greece, was the first to implement the programme and the first scientific coordinator till 2012. Since the academic year 2012, the scientific coordinator of the programme is I.N. Kazazis, the president of the Centre for the Greek Language. Since 2011, the "Routes" programme is run and funded by The National Strategic Reference Framework Act, which is implemented by the Centre for the Greek Language under the title: Support and quality promotion of teaching/learning Greek as a foreign/second language of the operational programme "Education and Lifelong Learning".
The programme constitutes a distance training system, and it is organized on the web platform: http://elearning.greek-language.gr/. Since 2007, the "Routes" programme has become a system that comprises three different programmes, which for practical reasons are divided into three routes.
| | |
| --- | --- |
| | The Red Routes in teaching Modern Greek as a foreign language are about the e-training of teachers of Modern Greek as a foreign language abroad, and about a programme which focuses on teaching specialization. The Red Routes are an eleven-month programme which offers official state recognition of the teaching competence to all those who successfully complete the training. |
| | The Blue Routes is a four-month programme for foreigners in Greece and it is destined for teachers of Modern Greek in Greece. It is considered to be a concise version of the first programme. |
| | The Green Routes not only focus on training students of Greek Language Departments and detached teachers, but also aim at supporting this particular target group as far as issues of teaching Greek on the C2 level (following the CERF scale) are concerned. |
For more information please download the following presentation.
Thank you very much for your attention and interest!
Centre for the Greek Language: centre@komvos.edu.gr
Division of Support and Promotion of the Greek Language, CGL: ellinomatheia@komvos.edu.gr
Last modified: Wednesday, 24 February 2016, 04:02 PM